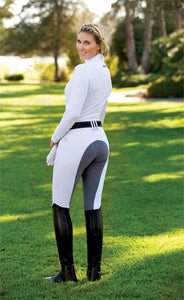 ROMFH Sarafina Full Seat Breeches - White/Grey
The Sarafina is a breech fit for a (dressage) queen. The fit of this comfy mid-rise breech is outstanding.
Flattering contoured waistband, strategically placed back yoke, and wide non-binding fit allows your
waist, hip, and other assets to look their best! Features Softtouch™ micro-PU fabric for the softest,
most comfortable technical breech in the marketplace and our first breech with vertical stretch
suede- Just like the European brands. Machine wash.