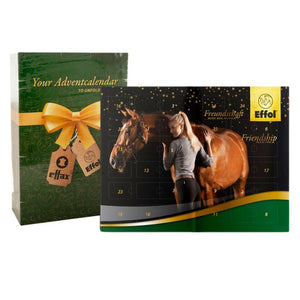 Effol Effax Advent Calendar
Holiday season with the Effol & Effax Advent Calendar
With 24 goodies for both horse and human, the Effol Advent Calendar will make every day of December an exciting one!
This holiday  Advent calendar filled with 24 doors of products you and your horse will love!
Each day during December you can open up one of the doors on the Effol Advent Calendar and get a mini sized Effol or Effax product. Great gift for your favorite equestrian, barn owner, or riding teacher.
What is behind the 24 doors?
Effol SuperStar Shine – Shine Spray
Effol Magnet – nourishes and protects skin/hair
Effax Glanz – cleans and cares for riding boots
Effax Sofort Glanz – for quick shine in between riding times
Effol Bronco Care – for easy breathing
Effol Shower Gel
Hey Sport Travel Global Wash
Effol Haut Repair – care cream for wounds and cracked heels
Effol Huf-Oil Gel – for healthy shine
Effax Creme Soap – cleaning and care in one product
Effax Leder Balsom – nourishing care with protective effect for leather
Effol Med Broncho-Care BonBons –  sugar free herbal sweets
Effol Body Lotion – with organic sea buckthorn oil
Hey Sport Micro Wash
Effol Haarwurzel Liquid – promotes hair growth on mane and tail
Effol Haut Lotion with sunscreen
Effol Friends Snacks
Effax Leather Combi
Effol Med Pflaster – 5 stick pieces for little scratches
Effol Hand Cream
Hey Sport lammfell Wash – preserves the function and quality of lambskin