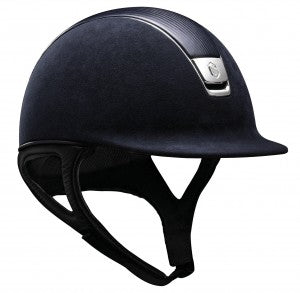 Samshield Premium Helmet in Navy Alcantara + Navy Leather Middle
The outer shell of the Premium is made of polycarbonate, which is a material used, among other things, for high-end motorcycle helmets. It is equipped with original Alcantara®.
The inner shell is made of polystyrene with variable density providing a better dissipation of the energy produced upon impact.
Navy Alcantara + Navy Leather Middle + Chrome Trip & Blason
For custom Samshield orders please call 662-449-4872 or email us at sales@tophatsboutique.net