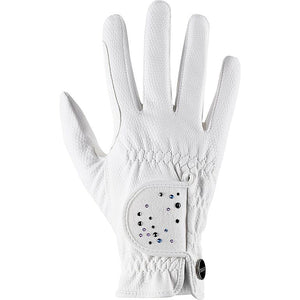 Uvex Sportstyle Diamond White
The uvex sportstyle diamond is an ultra-elastic, non-slip, supple and breathable riding glove which guarantees maximum comfort and durability.
The new glam variation, the uvex sportstyle diamond, was developed by uvex together with designers from Swarovski®. The glove's strap sparkles and shines with Swarovski® crystals and pearls in a variety of colors. These decorative sparkling elements are coordinated to the glove's color: clear, anthracite and dark colors for black gloves, and a range of blue and purple tones for the blue or while varieties. A unique design developed exclusively for uvex.